BOONE, N.C. — A funny story about a U.S. Representative changed the course of Josh Gregory's life.
Gregory, a senior from Raleigh in the Physics (BS) – Secondary Education program, enrolled at Appalachian State University with the intention of majoring in physics and pursuing a career path as an engineer or in research.
Gregory said then, in his first physics class, Dr. Jennifer Burris, professor in and chair of Appalachian's Department of Physics and Astronomy, shared an anecdote about a politician who feared an island in the Pacific might become so overpopulated during a planned military buildup that it would "tip over and capsize."
"The whole class laughed," Gregory recalled. "But what Dr. Burris said next shook me in a profound way. She said we shouldn't make fun of the politician, because the statement wasn't a failure of him as a person, but a failure of us, as scientists, to educate him."
"Physics teachers are needed in the world," Gregory said. "I think that only about a third of high school physics teachers actually have a degree in physics."
Burris quickly became one of Gregory's favorite professors, and he said he was excited when, as a first-year student, he was offered a research opportunity with her in BiyOSeF — Appalachian's Biophysics and Optical Sciences Facility.
"We were figuring out how small biological particles were interacting with each other, using really complex laser systems," Gregory said of the project.
While the undergraduate research opportunity was beneficial to his education, Gregory said he realized the computer-driven nature of modern physics research didn't appeal to him.
"That's when I remembered the story from Dr. Burris' class and decided to explore teaching," he said.
Gregory enrolled in the Physics Instruction Practicum taught by Appalachian's David Sitar, astronomy laboratory instructor.
"I immediately knew I was in the right place," Gregory said of the introductory class, which exposes students to the aspects of teaching high school physics. "He'd have us teach a lesson once a week and would critique it. It was so much fun for me, being in front of the classroom, explaining concepts."
Gregory was awarded a Robert Noyce Teaching Scholarship, which supports mathematics and science students in becoming high school teachers in those fields. "The scholarship program made my decision easier," Gregory said. "They've been a very supportive group, connecting me to a community of teachers and pre-teachers."
The problem-solving nature of physics intrigues Gregory, he said, and he applies physics principles in everyday life, especially when he is out in nature. "Physics has been a way to explore the way the world works through numbers. I might be on the edge of a cliff and drop a rock to calculate how high I am off the ground, for example."
As president of the Appalachian Climbing Club, Gregory has plenty of opportunity to test the laws of physics while enjoying the natural environment around campus. The recreational offerings of the mountains was one of the features that sold him on Appalachian, Gregory said.
Relationships with the faculty was another strong lure for him as he considered Appalachian as a prospective student. "Dr. Michael Briley, who was the physics department chair at the time, told me the professors are very invested in the students, and that has been proven to me time and time again," Gregory said. "I feel the professors are invested in me. They're there to help me when I need it, or even when I don't realize I need it."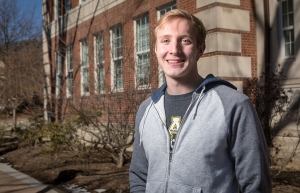 Tags: