Jon Jones co-founded Anthroware in 2013 to build software products the right way—with a focus on the end user experience, and treating every project as a product. Jon has a B.S. and M.S. in Applied Physics and Nanotechnology from Appalachian State University, and worked in corporate America as a software engineer prior to becoming an entrepreneur. In his role at Anthroware, Jon leads this rapidly growing company's business design, innovation, culture and sets company goals. Outside Anthroware, you can find him enjoying Asheville's outdoors with family and friends. Read below for a Q&A with him.
Q: Tell me about your time at Appalachian.
A: Originally wanted to study international business. That was a really bad fit; after just two days of my first intermediate language class I remembered walking into my advisors office and looking for other classes I could switch to. I bailed so fast. In the end, I traded 3 hours of language for 5 hours of calculus based physics and a lab. Dr. Brian Raichle was teaching in the Physics and Astronomy department at the time, and he got me really excited about Physics. I have always loved science; even as a kid it always seemed very important to understand how things work and why they might work that way. I struggled hard in school. First couple of years I had terrible grades, and not a ton of personal career direction which led to a lack of drive. I wasn't partying, I just wasn't focused and my grades stunk. After my grades dropped, I started paying for my own education. It was a wakeup call; I retook classes, I joined study groups, I did extra homework (and still tested poorly) and I also had to get a job. It was a real struggle but it taught me how I personally learn, and it taught me the level of effort I'd need to apply to a problem to see results— this lesson is priceless.
Q: What was one of your favorite moments in the Physics and Astronomy department?
A: One of the greatest parts of my experience at App was working with Dr. Coffey in her nanotechnology lab. I worked for her as an undergraduate, and was her first grad student later on. Course work and homework are obviously necessary, but working in a lab felt like I was given freedom to learn. Dr. Coffey's lab felt like a reward for the hard work put into other classes. Within reason, there was freedom to try things, break things, and push ideas. It was such a luxurious way to learn.
Q: How did you get from Appalachian to where you are now?
A: My first job out of school was at Borgwarner (a big fortune 500 auto parts supplier) in their North American center for turbocharger development as a 'controls engineer' here in Asheville, NC. I left Borgwarner in 2011 to join a small product team at another big company, Public Consulting Group. There I would learn from very smart people who were focused on building software— an experience I felt like I needed before branching out onto my own. There I met Jason Stewart, Anthroware's co-founder, and within a couple of years we had serious plans to start our own product company. June 6th, 2013 I had just turned 30, and my daughter was 6 months and 2 days. Talk about pressure! We hit 'deploy' on our first website and started our journey with Anthroware. Right now, Anthroware has 14 full time employees and we're growing. We study people, ask a lot of questions, think like anthropologists and business folks, care deeply about design, and believe products should be engineered to just work. We have a mission to build products that people both need and love to use, and to make a positive impact on our community. It really is full stack product development, design, and brand. The culture here is so energizing -- we employ some really smart people and I'm very humbled that they want to charge ahead with us like they do. We've built everything from compliance platforms for special ed, large fraud prevention platforms for Medicaid, mobile apps for health sharing, and even built the app for an IoT connected growler cooler so you can see what beer you've got on tap. Anthroware is a very special company because of our focus on people and the communities where we work and live. The secret to business is to build an organization that people are proud to be a part of, and to hire people that are smarter than you, that want to work with people that are smarter than they are. My role now is focused primarily on growing the team, doing some product consulting work, and setting the course for where we want to go as a company. It's interesting to me that my original focus at App was business, but the subject that ended up captivating me was physics/nanotechnology. I think nanotechnology is exciting because of all the applications in the real world for that tech.
Q: Is there anything else you'd like to add?
A: My time at App taught me how to learn, how to get really creative to solve complex problems, how to present complex ideas in a simple way that's easy to understand, and how much effort it takes to do something special. It also taught me that not everything is known, and there are opportunities to learn and build something meaningful hidden everywhere.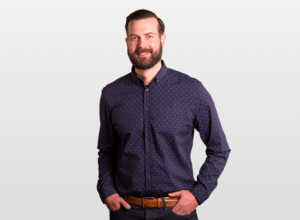 Tags: