Our very own astronomer and physicist, Carla Ramsdell, is leading a virtual Earth Month celebration event! She will be leading a Lunch and Learn series "Food Physics: an Edible Climate Solution" for RTI colleagues.
Carla has a contagious excitement for sustainable cooking and has a passion for making food and sustainability accessible to all, regardless of scientific background. She will be doing a live cooking demonstration while connecting the dots between physics and climate change.
In this Lunch and Learn event she will teach about:
Physical properties of kitchen cooking supplies and how to utilize their efficiency.
Reducing your GHG footprint through the way we cook and what we cook.-
How cooking can be a tool of empowerment for climate action and also create a better community.
Congratulations Carla!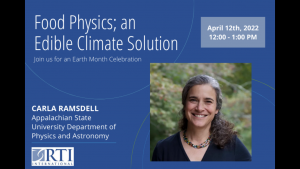 Tags: