Equal Time Equal Distance Drop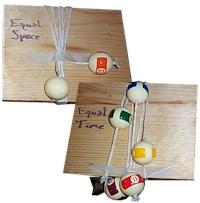 Topic:
1C Motion in One Dimension
Two different long strings with balls are dropped onto a pie pan. The first string has balls at equal distances, which make an uneven clatter on the pie pan. The second string has balls tied at 1, 4, 9, 16 etc. unit intervals. These strike the pie pan with a metered cadence.