Throw Object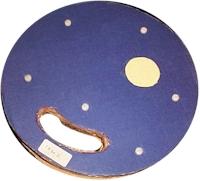 Topic:
1D Motion in Two Dimensions
Concept:
Motion of the Center of Mass
The object is weighted so that its center of mass is directly under the marked spot. On the opposite side is an identical dot, but in the center of the object. When tossed, the center-of-mass spot makes a parabola, but the center-of-object spot wobbles.