Rolling Uphill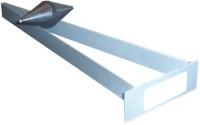 Topic:
1J Statistics of Rigid Bodies
Concept:
Exceeding Center of Gravity
Roll a pencil on the ramp to show that it does in fact slope downward. Then show the double cone rolling up the ramp. Though the double cone rolls up a set of inclined rails, its center of mass is actually being lowered. Looks impossible!