Rotating Stool And Bicycle Wheel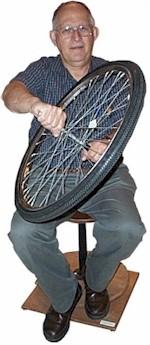 Concept:
Conservation of Angular Momentum
Invert a spinning bike wheel while on a rotating stool. As the wheel is turned, you begin to spin. Turn the wheel the opposite direction to change your spin direction.
This may also be done with the double bike wheels to show cancellation of angular momentums. Or, slow the bike wheel down deliberately to emphasize the role of friction in transfer of momentum.