Thermobile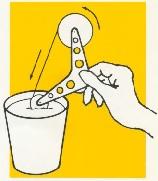 Topic:
4A Thermal Properties of Matter
Although this demo has never performed very well, it can still be used to illustrate the theory behind the nitinol wire heat engine.
Theory: The wire bent around a pulley has a memory effect, so the heat will cause it to straighten to its original shape. This should spin the wheel, and continue as long as it remains heated.
In a bowl of hot tap water between 122F (50C) and 167F (75C) place the bottom edge of the brass wheel. Do not immerse the wheel bearing. Gently rotate the big wheel to start the motion, and it should continue.