Hair on End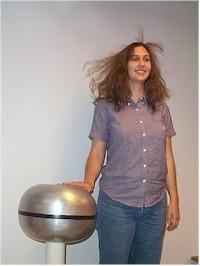 Area:
5 Electricity and Magnetism
Topic:
5B Electric Fields and Potentials
While standing on an insulated stool, charge yourself up with a Van de Graaff generator.
CAUTION: Use a wooden stool that is at least two feet from the floor. Take off all jewelry and pointed metal objects. Keep your hand on the generator while charging, and do not remove it until the generator has been discharged. Dry, fine hair gives the best results.