3-D Magnetic Field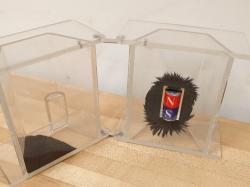 Area:
5 Electricity and Magnetism
Topic:
5H Magnetic Fields and Forces
The new and improved version of this demo has two sealed pockets of iron filings in air. Shake to have the filings form around the magnet. Hinged like a clamshell, you can open the unit to show a cutaway view! You can also hold the unit on its side and carefully shake it to form "ropes" of filings along the field lines.