Force Between Parallel Wires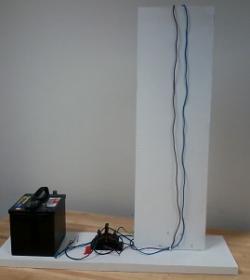 Area:
5 Electricity and Magnetism
Topic:
5H Magnetic Fields and Forces
This demo can be shown only once or twice per class hour and must be given an appropriate amount of time to cool down. Because the currents must be so high and the wires must be so flexible, the wires can overheat very quickly. This is not a problem because the effect is very dramatic! VERY quickly flip the switch ON-and-OFF to show parallel or anti-parallel currents.