Can Crusher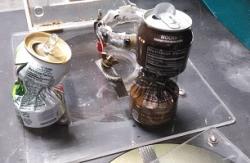 Area:
5 Electricity and Magnetism
Topic:
5K Electromagnetic Induction
Place a can in the coil of wire and allow the capacitors to build up a charge (approximately 90 seconds). When activated, a large but brief current is induced in the can. The magnetic field from the coil opposes the magnetic field from the can... and the coil wins the battle!