DC Motor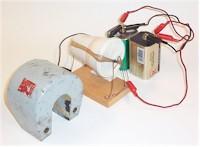 Area:
5 Electricity and Magnetism
Topic:
5K Electromagnetic Induction
A powerful magnet, a coil of wire around a coffee cup, a couple of batteries and some wire are all you need to make this DC motor run. Although not difficult, this does require some setup and adjustment. A simpler version is the DC Motor (classroom) for use with the document camera.