Induction coils separated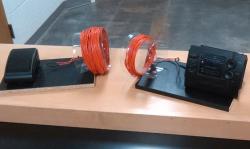 Area:
5 Electricity and Magnetism
Topic:
5K Electromagnetic Induction
This is basically a transformer with the coils separated in air. Current from the radio coil creates a current in the speaker coil by the induced magnetic field. Change the orientation of the coils to change the flux in the speaker coil.