Induction Cooker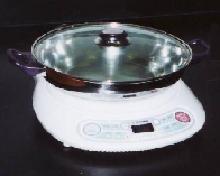 Area:
5 Electricity and Magnetism
Topic:
5K Electromagnetic Induction
Use this special "hot plate" to show that the container gets hot while the surface of the appliance does not. Additionally the metal part of the pan heats up, while the glass part of the pan does not. You can see water boiling over the metal, while ice cubes last for a time above the glass.
CAUTION: Even though the cooking surface does not heat itself, the water does boil, and all of the parts do get hot from the conducted heat!