Jumping Ring (classroom)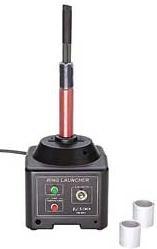 Area:
5 Electricity and Magnetism
Topic:
5K Electromagnetic Induction
This is a simple version of the jumping ring that does not require the additional power equipment and foot trigger used in the stage model, 5K20.30B. A solid aluminum ring on the vertical transformer jumps when you press the "launch" switch, while a split ring does not. This demo also has a coil of wire and a bulb to show induced currents. Caution: This demo will overheat if the "launch" switch is held too long!