AppalFRESH, the Appalachian Food Research for Equity Sustainability and Health Collaborative, hosted the third annual Community FEaST (Food Engagement and Storytelling) on Sanford Mall Tuesday, October 22. Clubs and organizations from all across campus came together to sponsor tables at the FEaST and encourage conversation about food sustainability. Among the sponsors were the Department of Physics and Astronomy and three department affiliated student clubs including the Physics and Astronomy (PandA) club, the Student Inclusive Excellence (SIE) in STEM Club, and the Robotics Club.
Participants of the FEaST enjoyed the company of Dr. Sheri Everts, Appalachian's Chancellor. During her time at the events, Dr. Everts made her way to the SIE in STEM table, where the club prepared liquid nitrogen ice cream with her.
Lia Phillips, the president of SIE in STEM and pictured with the Chancellor and club member Sarah Royster, stated "With Community FEaST, we thought the event would be an awesome opportunity to continue to foster a conversation about inclusion. In serving the liquid nitrogen ice cream, we hoped to attract people to show them how it's made while also getting to talk to students about what our club is about. It was an incredible experience to be able to show the chancellor some cool live science and see the interactions between all of the students."
Community FEaST is a fun, educational, and sustainable event that happens on campus every year. If you missed it this year, be sure to check it out next Fall!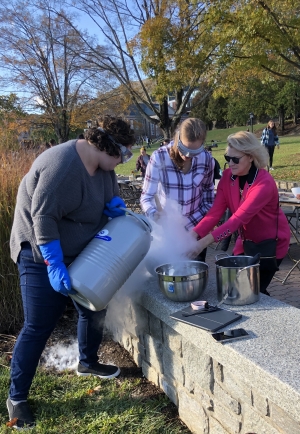 Tags: