Outreach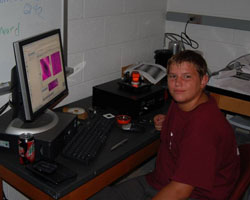 We have learned from our outreach experience that introducing microscopy to K-12 grade students excites them about nanoscience & nanotechnology and provides a unique opportunity for implementing experiential learning in the classroom. Many aspects of STEM can be explored by educating younger students about the fundamentals of microscopy and are further reinforced by having the students learn to operate the microscope and acquire images themselves. When students take ownership of acquiring microscopy data during sample analysis and are able to take with them a digital file or print out the imaging results it allows them to share what they learned with their peers and family. This type of learning cycle, from abstract conceptualization to concrete experience, has proven to be an effective pedagogy practice for students of all ages.
Our other outreach goals are to increase the quality and quantity of mathematics and science teachers in North Carolina Public Schools, strengthen instruction in mathematics and science in grades K-12, sponsor research and development in mathematics and science education, and increase the use of educational technology in schools. Finally, we hope to use the new instrumentation as a recruiting tool, to attract visiting prospective majors who otherwise might choose to go elsewhere.
The following outreach activities have served to further our aforementioned goals in 2009:
4/2/2009: Nanodays Residence Hall Outreach: Sponsored by Faculty in Residence of Cannon Residence Hall (Donovan Leonard), ~20 students, mostly freshman in a variety of majors attended
4/7/2009: First Year Seminar: Multidisciplinary students taking First Year Seminar learned about and operated the Nanosurf AFM and characterized the front and back side of an unpackaged solar cell
4/9/2009: Nanodays Student Union Outreach: Nanosurf AFM was included on a table of Nanodays activities set up in the student union. Hundreds of students on campus pass through the student union every day and ~30 inquired about the Nanosurf.
4/18/2009: ASU's Spring Open House: General Public/Nanosurf AFM displayed for recruiting
6/18/2009: Duke Tip Program visit: Duke TIP students/Nanoscience and nanotechnology education
6/19/2009: Duke TIP Nanotechnology Course: The nanosurf traveled to Duke Univ. west campus and was used by 18 9-10 grade TIP students as part of the Nanotechnology class they were taking, being taught by Andrew Madison
7/15/2009: Gear Up Program visit: At risk high school students/Nanoscience & technology education
7/16/2009: STEP Program visit: ASU science students/Nanoscience & technology education
7/22/2009: Duke Tip Program visit: Duke TIP students/Nanoscience and nanotechnology education
7/29/2009: Microscopy in the Classroom, Microscopy & Microanalysis '09: Middle and High teachers, college professors attended a special symposium at the microscopy & microanalysis meeting in Richmond, VA. Donovan Leonard gave an invited talk about using the AFM in the classroom and also demoed the Nanosurf AFM to the attendees
7/30/2009: 'Meet the Scientist' visit: K-6 students/Nanoscience & technology education
8/6/2009: 'Meet the Scientist' visit: K-6 students/Nanoscience & technology education
If you would like to participate in one of our outreach activities, please contact Tonya Coffey (coffeyts@appstate.edu), Donovan Leonard (leonarddn@appstate.edu), or Phil Russell (russllp@appstate.edu) with your request.