Physics Secondary Education
Physics Secondary Education

Physics (BS) – Secondary Education
Physics is the basis of our understanding of matter, energy and all other phenomena. Physics describes how the world around us works from cell phones to tsunamis, anatomy to cathedrals and DNA to black holes. Physics is the basis for modern technology and for the tools and instruments used in medicine, engineering, manufacturing and other sciences.
Through Appalachian State University's Physics (BS) – Secondary Education degree, you will receive the guidance and instruction to harness these concepts and share that knowledge as a teacher of high school physics, math, chemistry and even biology – with a primary focus on physics. The program combines the strengths of the Department of Physics and Astronomy with the rigorous teacher preparation in Appalachian's Reich College of Education. Graduates of the program are in high demand for teaching positions in North Carolina and across the country.
In addition to receiving a well-rounded course of study in physics, you will shadow physics and astronomy faculty members in classrooms and labs, and have the opportunity to work with them on research and other creative projects. Combine all that with access to top-notch research facilities including the Dark Sky Observatory, the AppNano microscopy facility, the Appalachian Atmosphereic Interdisciplinary Research facility (AppalAir), the multidisciplinary Biophysics and Optical Sciences facility (BiyOSeF) and other research laboratories. Appalachian's Department of Physics and Astronomy is an extraordinary place to learn and grow.
Careers
Our physics secondary education program allows you to graduate with a physics - secondary education degree and prepares you to earn license to teach! Providing you with many opportunities, opening the door for both industry and teaching. Appalachian's Physics - Secondary Education degree helps prepare students to feel confident in teaching basic physics, applied physics, instruction and lab design, computer and software use, as well as other STEM courses.
There is high demand for high school physics teachers and less than 50% of current physics teachers have a degree in the field. Last spring one of our students was offered five teaching positions before graduation!
Possible careers:
Secondary School Teacher, Physics
Adult Education Teacher
Curriculum Specialist
Education and Training Administrator
Educational Administrator
Educational Researcher
Employee Training Instructor
Grant Writer
Instructor, College/University
Librarian
For more information about a career in physics secondary education, visit the App's Career Center.
Courses
Core courses include:
General Physics I & II (PHY 1103/1104) or Analytical Physics I & II (PHY 1150/1151)
Intermediate Physics I & II (PHY 2010/2020)
Physics Laboratory Techniques and Data Analysis (PHY 2210)
Modern Physics (PHY 3210)
Physics Instruction Practicum (PHY 3400)
Instructional Assistance (PHY 3520)
Methods of Experimental Physics (PHY 4210)
Additional curriculum includes courses in biology, geology, chemistry, mathematics and additional teacher preparation courses. Visit the physics secondary education program of study for more details.
The physics secondary education program is designed to help future teachers feel confident and comfortable teaching laboratory, general physics, modern technology and more!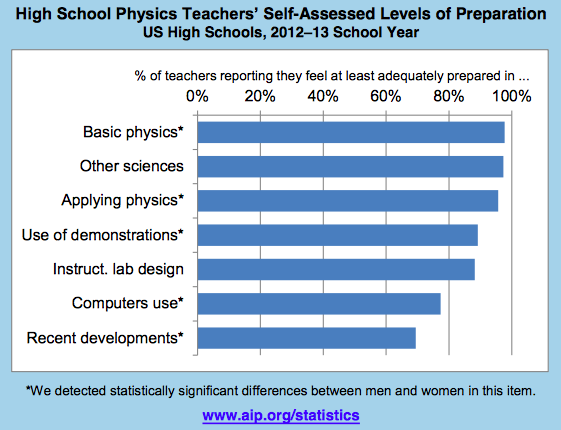 Student Resources
The National Science Teacher Association. This is the largest organization of science teachers worldwide. The organization provides resources (books, journals, lesson plans, activities), conferences and processional development and science standards.
The American Institute of Physics. This link includes information on employment and careers for physics degrees and data on high school physics students and teachers.
The American Association of Physics Teachers is "a professional membership association of scientists dedicated to enhancing the understanding and appreciation of physics through teaching." The organization provides resources and opportunities for conferences, publications, grants and scholarships. AAPT has sections in each state. The North Carolina Section of the American Association of Physics Teachers (NCS-AAPT) is open to all physics teachers (current and perspective), specifically in the state of North Carolina.
NASA supplies educational resources for teachers and students of all age levels. NASA offers different opportunities, projects, competitions, lesson plans, activities, etc. Check out NASA's Museum in a Box if you are interested in hands-on/minds-on aeronautics activities that can be used while teaching a variety of the STEM disciplines.
The Institute of Physics supplies support for educators, extracurricular resources and actives, professional development and resources for teaching a variety of physics concentrations: Advanced physics, medical physics, astronomy, etc.
PhET is a free online resource for interactive simulations that engage students in math and science. It allows students to visualize concepts like wave interference, circuits, forces and motions, pendulums and much more.
The Next Generation Science Standards are science content standards that set the expectation for what students should know and be able to do. The standards are divided into three categories: Crosscutting concepts, science and engineering practices and disciplinary core ideas. The goal of NGSS is the help students build a cohesive understanding of science over time.
The North Carolina Essential Standards provide an overview of the content and objectives that students and teachers should accomplish throughout the course. It is helpful when designing lesson plans and activities.
Helpful Journals: The Physics Teacher, Physics Today, Connected Science Learning and The Science Teacher